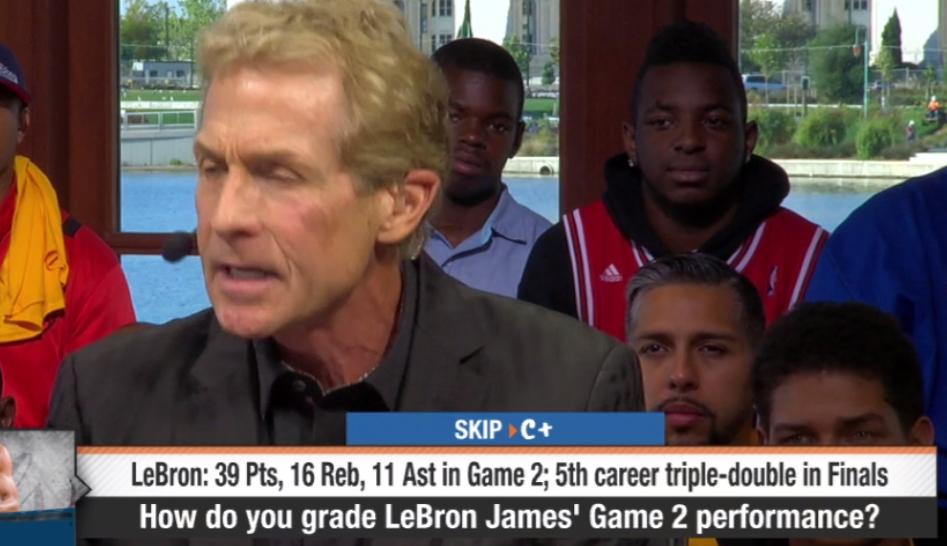 You just suck so hard, Skip.
---
David Lee, Draymond Green & Harrison Barnes for Kevin Love?
This was an actual thing. So was Klay Thompson for Love. With an injured Love for the Finals, it's even harder to imagine, but these were hot button topics on local sports radio last summer. In this article,  Zach Lowe looks beyond Love's injury and the "what-ifs" that dot every barstool sports debate. Trends in the NBA are evolving at an unprecedented rate, and Kevin Love – widely considered a top-1o player less than a year ago – now seems like an afterthought. The new hot button question is whether or not the Cavs are better without Love on the floor. "By not playing, [Kevin] Love has become the league's most confusing and polarizing player." And let's not forget the real prize – Andrew Wiggins – now in Minnesota. Considering what LeBron is doing with a depleted roster, would keeping Wiggins on a team in the weak Eastern Conference have prevented the Cavs from getting to where they are now? As Lowe puts it, " LeBron is winning with this Love-less crew of misfits, and there exists a reality in which the Cavaliers could have kept Wiggins, gained cap flexibility, and snagged Thaddeus Young to serve as Love Lite by simply cutting Minnesota out of the three-way deal that ended up sending Love to Cleveland." Potential trades are always fun to talk about in the future tense, but Lowe's article looks back on a non-trade and its impact on the Finals. – PAL
Source: "What's Next for Kevin Love", Zach Lowe, Grantland (6/9/15)
TOB: There exists no reality in which the Warriors regret their decision. I have long been anti-Kevin Love, despite his numbers. I don't really care what you do on the offensive end if you are a complete sieve on defense. The best point in that article was about Warriors officials having nightmares about Curry and Love defending the pick and roll. Terrifying. Vaguely related, after Game 2 of the Finals, I posited that the Cavs might be better off without Love and Kyrie, because neither of them plays a lick of defense, and the guys that stepped up in their place were busting their asses on that end. But after Game 4…I'm not so sure. LeBron is the best player since Jordan, but not even Jordan could have won a title with zero offensive help. LeBron needs someone to help shoulder the load, and that help is not coming. After Kyrie went down in Game 1, Phil asked me if LeBron was able to take this Cavs team to the title, would it be the greatest Finals performance of all-time? Instinctively, I said no. I mentioned Jordan's 1993 Finals (41 points, 8.5 rebounds, 6.3 assists per game) vs the Suns. I assumed LeBron had no chance to touch those numbers, and no chance to win the title. But he kind of is, and he definitely does. Does he have two more amazing performances in him? Probably. Will it be enough? I don't know. Should be a great finish.
---
Serena Williams Keeps on Truckin
I don't know a lot about tennis, but who doesn't love Serena Williams? I will leave you with this, because this is some great writing:
"During her run at Roland Garros, she wasn't light or uncertain. She was exhausted and clinical, struggling through a flu that left her, in her semifinal match against Timea Bacsinszky, hunched over and panting on her racket. When she saw an opening, she annihilated the ball, and when she didn't see one, when a drop shot looked a little too far away or an angle a little too acute, she let the point go. It was, in other words, a win enabled by supreme experience, a master class in high-stakes resource management by a player who's won 20 of her 24 Grand Slam tournament finals and who's lost only once since November. And when she took the microphone after the final, she didn't stammer or blink. She addressed the crowd in confident French, a worldly, sophisticated woman who spends much of each year in Paris." -TOB
Source: "Like It's 1999: On Serena Williams's Dominance and the Passage of Time", Brian Phillips, Grantland (06/08/2015)
PAL: "It's so rare, in tennis, to watch a player really grow up. I don't mean 'mellow out' or 'stop partying' or whatever grow up usually means in sports; I mean develop a fully adult self, distinct from the kind of prolonged high-stress adolescence that most stars, for obvious reasons, inhabit throughout their twenties." The Williams sisters, who started as teenagers, took a sport and completely changed its face and attitude. Hell yeah. You know an athlete is transcendent when you take his or her greatness for granted. Serena won her first Grand Slam at 17. She's now 33 and has 20 Grand Slams to her name. Can you name 5 other athletes who were at the top of there game for 16 years? Can you even name 2?
---
All Hail American Pharaoh
Last weekend a horse won the fabled Triple Crown for the first time in my life. It had been 37 years since Affirmed won the Kentucky Derby, the Preakness, and the Belmont in 1978 (Affirmed's win was the 3rd in 6 years, but before 1973 there had been none since 1948). American Pharaoh ended the drought in dominating fashion. I've enjoyed horse racing since I was a teenager. The first horse to capture my attention was Cigar, who tied Citation's record of 16 consecutive victories in 1995. As soon as I knew what the Triple Crown was, I had wanted to see it accomplished. But no horse came close from 1989 until 1997, when Silver Charm won the first two legs. That began a string of near-misses – 1998, 1999, 2002, 2003, 2004, 2008, 2012, and 2014 all saw horses win the first two legs. I had begun to believe it would never happen. Normally, if a horse has a shot at winning the Triple Crown, I do not miss it if I can help it. But on Saturday I was at a family party and didn't get a chance to watch. My uncle had recorded the race, so late in the evening, the entire family gathered around the TV and watched. A couple of us had gotten wind of the result, but it didn't make American Pharaoh's win any less dramatic. Though the race had been over for hours, the entire party was transfixed – cheering American Pharaoh on. He led wire to wire, and when he opened up that huge lead on the homestretch, everyone went crazy. After the race, I heard multiple people remark that they had thought they'd never see a Triple Crown. I don't know what it is about horse racing that has the ability to capture the nation's attention for just a few minutes a year, but when it does it is quite the experience, as Charles P. Pierce experienced first-hand. -TOB
Source: "King for a Day: American Pharaoh and the First Triple Crown in Generations", Charles P. Pierce, Grantland (06/08/2015)
PAL: I just don't care. This is counterintuitive. It's a beautiful thing to see an animal do what it's bred to do. Watching a dog on point while hunting pheasants jolts you, reminds you that it serves a purpose beyond playing fetch at the park. Seeing – er, watching on Discovery Channel –  a cheetah stalk and chase down a gazelle is beautiful. And yet, I don't care about the Triple Crown. Perhaps it's because seemingly every year a horse wins the first two races, which is then followed by talk radio and Sports Networks filling a sport season gap (pre-NBA Finals, early in the baseball season, NFL offseason, pre-Stanley Cup, no college sports of consequence). They tell me why the Triple Crown matters, which is followed by it never happening. Horse racing and boxing were once the biggest sports in America, so I'm told. That was 8 gazillion years ago. I just don't care, and neither does anyone else besides writer Charles P. Pierce – an old fart with an old fart name. Oh, and Tommy. Tommy and old farts with old fart names who wear fedoras care about horse racing.
TOB Rebuttal: 
Total Attendance of the Triple Crown Races, 2015: 392,193 (and that's with a first ever no-infield admission to the Belmont, with a cap of 90,000 attendance)
Total Viewers of the Triple Crown Races: Approx. 33,000,000 including over 14,000,000 for the Belmont.
There sure are a lot of old farts out there.
---
Follow the Bouncing Ball…
This is a fascinating story about NBA basketballs – starting with the tannery where the leather is made and ending with what happens to them after they get to NBA arenas, including some great stuff on how certain players like basketballs to be, and how the basketball has evolved over the last 40 years. In the old days, players liked a well-used basketball, sometimes using the same ball for all 41 home games. Today, they don't have much choice, as the NBA won't use a basketball for more than 3 or 4 games, for aesthetic purposes. Which is lame, really.  I have used an NBA game ball before, and you'd be shocked at how hard and slick it is. I am one of those players who is very sensitive to a basketball. If it's too slippery, it doesn't come off my fingers right and I will shoot poorly. Others don't care about how it feels, and when they hear people like me complain about it, they think we're making excuses. Maybe so. But I can tell you that I can pick up a basketball and know immediately if I'm going to shoot poorly with that ball. This article about how some NBA players are similarly sensitive, vindicates me. -TOB
Source: "A Game Ball's Road to the NBA Finals", Baxter Holmes, ESPN (06/07/2015)
---
Video of the Week
---
Tweet of the Week
Update from last week: Steve Kerr is still the best.
---
PAL's song of the week: Nina Simone – "I Wish I Knew How It Would Feel to Be Free". Check out all of our weekly picks here (they're super good).
---
Like what you've read? Let us know by following this blog (on the right side, up near the top), or:
Email: 123sportslist@gmail.com
– Steve Kerr