---
NBA Players Examining Black History
The NBA players of today are the best of any era, IMO. They are the best players (by far) and the best citizens. The Athletic's Jason Jones profiles a number of players who have made learning Black American history a priority, and it's a really good read. He discusses what these players have learned, how they've learned it, and the perils of self-education on the internet. I highly recommend you read it. I especially liked this passage, from the Kings' Harrison Barnes:
"Sometimes people have a tendency to take (Black history) and put that in a box: well that's education, those are things you learn in school," Barnes said. "I kind of went through that process and the reality is there's so much about American history but specifically African American history that is not taught in schools and is not widely publicized. There are certain narratives that are taught and shared and repeated that it's important to engage in those dialogues. If nothing else, American history is very complex, specifically African American history. A lot of times people don't have any inclination to do the extra research on it."
That's a great point by Barnes, and I have been embarrassed a few times in the last year by major events in American history I had never heard of, especially in regards to Black Americans. On some levels, it's not my fault because these events and people weren't covered in school. As Kings' rookie Tyrese Halliburton said:
Haliburton, like many people, has had a lot of time to look into issues during the pandemic and realized he didn't have an in-depth knowledge of Black history.

He was able to see what he truly had never been taught.

"I learned the basics of Black history, learned about slavery, Martin Luther King, Malcolm X, the big pillars of African American history," Haliburton said. "I feel like in full honesty, African American history is not focused on enough in school … I hate that it's acknowledged as African American history instead of American history. No, that's the history of our country."
But Barnes was right – education shouldn't stop when we leave school, and that's on me – on all of us. -TOB
Source: "As NBA Players Delve into Black History, Questions Abound on How and What They Learn," Jason Jones, The Athletic (02/10/2021)
---
The Relievers Get Their Day
Life depended on it, what reliever from your team would you trust to get 3 outs in a 1-run game?  Let's just say it: it's a light sports news week, folks. The Super Bowl is done, winter sports are just getting going, and baseball still feels far away. In other words, not a ton of sports stories this week, unless you want TOB and me to go rounds over the Red Sox trading Andrew Benintendi to KC…yeah, I didn't think so.
So instead, let's turn to Grant Brisbee for a good ol' fashion bar debate. Since we scoured the internet for a week and couldn't find much sports stories worth sharing, it feels fitting to only now write many words about relief pitchers. The ground rules, per Brisbee: 
First, we're talking about the best version of this reliever. You pick the season. I'm not sure if you were more impressed with Robb Nen in 1998 or 2000, but that's up to you.
Second, it has to be a reliever. Don't play five-dimensional chess and pick Tim Lincecum from 2008. And don't play six-dimensional chess and pick Madison Bumgarner from 2014. He doesn't count, either.
Third, that best version of the reliever has to be when he was with the Giants. Don't play seven-dimensional chess and pick Joe Nathan unless you want the 2003 or 2016 version.
Let me first apply this to Twins relievers for our MN readers. Obviously, the best reliever we ever had was Jack Morris just going 10 innings in Game 7, but rules are rules. Brisbee was talking Nathan in a Giants uniform, but Nathan put together some good stats as the Twins closer. I knew that, but I was shocked to see just where his performance stacked up historically.  Per Do-Yuong Park of MLB.com:
Nathan stands alone in his dominance out of the Twins' bullpen. The club's all-time leader among relievers in ERA (2.16), saves (260) and strikeouts per nine innings (10.9), the six-time All-Star was the shutdown force that awaited at the back end of the bullpen for much of the Twins' extended run of American League Central success in the 2000s. He was part of the 2004, '06 and '09 teams that won division championships, saving 44, 36 and 47 games during those three campaigns, respectively. He was durable in that time, too, making at least 64 appearances in his first six seasons with the Twins until he missed the entire 2010 campaign due to right elbow surgery.

The right-hander's peak seasons involved some crazy numbers — ERA+ marks topping out at 316, 294 and 284, for example — and there was hardly any inconsistency to be had in his game. Consider, for example, that Nathan converted 89.13 percent of his save opportunities throughout his career, placing him just ahead of Hall of Fame closers Mariano Rivera (89.07 percent) and Trevor Hoffman (88.77 percent).
I'll wait while you read that last sentence again. I did the same. That's a pretty unassailable case for MN Nathan, and yet he really made me nervous, and I think a lot of Twins fans will tell you the same. He converted a higher percentage of saves than Mo friggin' Rivera, and I was very nervous when he was on the mound. How about that, eh? 1991 Rick Aguilera was pretty great, too. And he closed out nail-biters on that '91 World Series run. 1 earned run during the playoffs, all high leverage situations. 3 saves in ALCS against a Blue Jays team that would go back-to-back in '92 and '93, 2 saves in the World Series, and he held his ground in Game 6 and got the W. High pressure playoff situations is really where a reliever makes his bones in my book. That's a reliever I can feel good about in this situation.  Also, Rick's beard or goatee was always so perfectly manicured.
Aguilera over Nathan, on the mound in a tight situation and facial hair. I can trust that first guy to keep it orderly. Chin hair guy will leave me dangling.
For the Giants, If I'm going on feel, I felt very, very good about Jeremy Affeldt coming out of the pen for the Giants in 2012 and 2014. He didn't give up home runs (1 a piece in each of those seasons), and he had a ERA+ of 154 in 2014, which is very good (I'm pretty sure…I just want to impress TOB with my use of ERA+). He threw hard, but wasn't a one-pitch guy, and I never felt the moment was too big for him. He wouldn't give in, and – yeah – that can be hard to grind out sometimes as a viewer, but that kind of confidence in a veteran reliever helped make him a key bullpen guy in all three of the championship teams.  However, he really blows up my facial hair standards set up earlier, because he went to the mound with a long flavor saver quite a bit.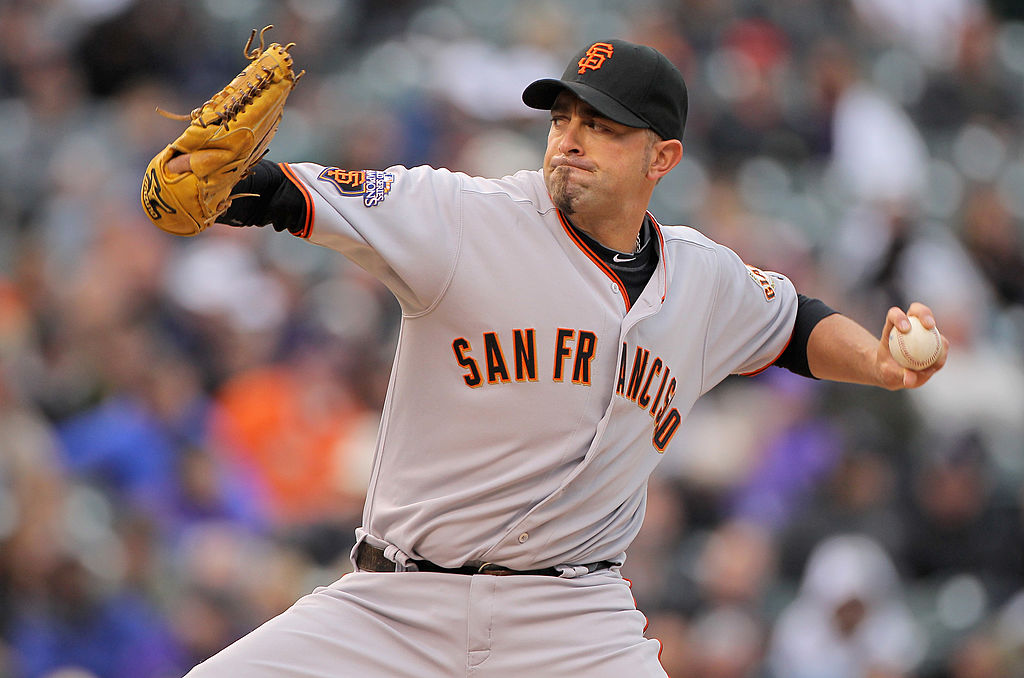 TOB: We have to stick to relievers here. My first thought was actually 2012 Postseason Tim Lincecum. He made 6 appearances, all in relief. He had an ERA of 2.55, a batting average against of just .150, OBP of just .209, and slugging of just .200 for an OPS against of .409. That is ELITE. 
Of course, I'm cheating a bit because Lincecum was mostly not a reliever. Brisbee specifically said not to pick 2008 Lincecum, which I didn't technically do. Plus, I hadn't read the article when I first picked 2012 Postseason Lincecum, so I only cheated a little, and I feel pretty good about the pick. 
But if I had to pick a more conventional reliever, I gotta go either 1998 Nen or 2011 Romo. And I think I'm leaning Romo, in part due to an all-time great walk-up song.
That song would get the crowd fired up for a win. And yeah, there's also some recency bias with Romo. But, other than that and El Mechon, check out these 2011 Romo numbers:
"Simply one of the most dominant relief seasons in history. Forty-eight innings. Seventy strikeouts. Five walks, and one of those was intentional. Romo's ERA that season was 1.50, but his FIP was 0.96. Is it rare to have a FIP that low? It is. It's happened four times in history."
FIP is Fielding Independent Pitching – basically your expected ERA based on walks, strikeouts, and home runs, equalizing all else to account for the fact that pitchers have varying levels of competent defenses behind him. As Grant notes, a 0.96 FIP is ridiculous. Plus, I get to walk out of the snake room, arms held in triumph with this guy:
Source: "If You Had to Choose a Giants Reliever From History to Save Your Life …", Grant Brisbee, The Athletic (02/10/2021)
---
The Mavs Stopped Playing the Anthem and Nobody Noticed, Until They Did
This week, a "news" "story" "broke" – the Dallas Mavericks had quietly side-stepped the kneeling-during-the-anthem "controversy" by simply not playing the stupid song before games. For thirteen home games, they played without playing the song and no one seemed to notice or care. And then a reporter for the Athletic noticed and asked. Mark Cuban acknowledged they had not played it all season and that the reporter was the first to ask about it. 
This really ends this "controversy" doesn't it? It was never about the anthem, or about the military, or about patriotism. It was never about the song. It was about Shut Up and Dribble. It was about not wanting a person of color to rock the boat and make white people feel uncomfortable. 
Many of us knew this truth, of course. But this story really hammers it home. And for a half day I thought, "Wow, maybe the anthem will just go away before sports games forever." Of course, that didn't happen. In fact, the NBA chickened out. Before the season, Cuban got approval from the league to not play the anthem, but once the story broke the NBA ordered them to resume. LOL. Spineless, Adam Silver. -TOB
PAL: I read an opinion column from Ezra Klein the other day about progressivism in California. There's a lot in there specific to California's approach to progressive politics, but the part in his story that really resonated in the context of this Mavericks story is the following:
There is a danger — not just in California, but everywhere — that politics becomes an aesthetic rather than a program. It's a danger on the right, where Donald Trump modeled a presidency that cared more about retweets than bills. But it's also a danger on the left, where the symbols of progressivism are often preferred to the sacrifices and risks those ideals demand.
So, yeah, the controversy over the anthem is a dumb one. It doesn't take much to see why someone might want to protest that song, but I also think it's much easier to write about, comment on, argue over, symbolic gestures than it is to dig into policies that can bring about the change many seek. Each organization should make the call as to whether or not they make the anthem a part of the game experience. 
---
Everyone knows Gretzky is the greatest hockey player of all-time. What this post presupposes is…maybe he wasn't?
I was scouring for stories, last night, and I found this funny little throw-away post from Defector that included a video of how bad hockey goalies were in the 80s. And so was The Great One actually great?
This video is pretty damning for 99. 
The amount of goals from the neutral zone is appalling. Extra credit for catching the movie reference in the headline. – PAL 
Source: "Was Wayne Gretzky A Fraud", Tom Ley, Defector (02/11/2021)
TOB: This feels very right to me. I caught hockey at the tail end of Gretzky's prime – he was already in L.A., and did lead them to that won Stanley Cup Final loss. But he never did it for me. 
But I will say that 8 minutes of cherry-picked goals is not exactly fair.
---
Tweet Storm
As Phil mentioned, it's a slow week. So I decided to do a quick Tweet/Video round-up because there is a lot to share this week. 
First up, this funny exchange. After baseball writer Andy McCullough wondered aloud what Royals player Kyle Zimmer has been doing this offseason, Sam Selman, a Giants player and apparent friend of Zimmer, helpfully updated McCullough on Zimmer's goings on.
Next we have a Sacramento Kings fan with an excellent Mandalorian gif when discussing wanting to see Kings' super rookie Tyrese Halliburton in the game.
That is perhaps very niche, as you have to be in the venn diagram overlap of Kings fan and Mandalorian fan, which fine. What's not niche are these very relatable tweets.
Changing gears, I watched the following video at least a dozen times Thursday night.
That is Warriors player Juan Toscano Anderson, with the excellent skip pass, celebrating the Curry three-pointer before Curry has even caught the ball. LOLLLLLL. And of course, splash. Great stuff, Juan T. 
I really enjoyed this mash up of Jason Williams highlights, spliced with former Sacramento Monarch Ticha Penicheiro. It is extremely cool.
But I have saved the best for last. All due respect to Phil's tennis choice, this is the funniest thing I've seen in a long time.
"If he hit the ball very far, he may run on all the pillows, around the pillows. Sometimes someone is stealing the pillows. Sometimes if a man hits a man with the ball he may run to the pillows. And the boys in the trench, they sit in the trench and they look around and they spit spit spit."
---
Video of the Week 
Tweet(s) of the Week:
---
Song of the Week – Black Pumas: "Know You Better"
---
Like what you've read? Follow us for weekly updates:
Email: 123sportslist@gmail.com
Twitter: @123sportsdigest
---
"I am one of few people who looks hot eating a cupcake."
-Kelly Kapoor