---
Bumgarner's No-Hitter is Absolutely a No-Hitter (No, It's Not) (Yes, It Is) (No, It's Not) (Yes, It Is)
Premise 1: Madison Bumgarner had many near no-hitters with the Giants. Then he left for Arizona, stunk up the shortened 2020 season, and stunk even worse in his first few starts in 2021.
Premise 2: In the shortened 2020 season, MLB instituted a rule change to reduce the number of innings from 9 to 7 for doubleheaders. This was one of a number of rule changes ostensibly intended to reduce the risk of on-field COVID-19 transmission, and it also was accounting for the fact that the league was expecting a big uptick in doubleheaders due to COVID-19 related cancellations, and the fear that so many doubleheaders would overly tax players – especially pitching staffs. Then, for some reason, they kept this rule for 2021.
Those two premises converged on Sunday when, pitching in the second game of a doubleheader, Madison Bumgarner threw a no-hitter in 7 innings. Immediately the takes were hot. Some felt strongly that it doesn't count. Their argument is that 9 innings is a game, not 7 innings, and 7 innings is not as difficult as 9 innings. I am here to tell you that they are wrong. If you agree with them, you are wrong.
Consider what happens if a pitcher gives up no hits through 9 innings but the game goes to extra innings, and then the pitcher gives up a hit in the 10th. MLB does not consider that a no-hitter. But why not? The pitcher gave up zero hits over nine innings! Too bad. It's not a complete game, it's not a no-hitter.
By the same token, the game Bumgarner pitched counts in the standings. It's a real game. It's a complete game, from start to finish. If it counts in the standings, and it's a real game, then how does it not count? The man gave up no hits over the course of a full, complete, legal game – he gets his no-hitter.
Now, you're free to believe that it's not as impressive of an accomplishment. And you'd be right. No hits in 7 innings is not as impressive as no hits in 9 innings. But that doesn't mean he didn't give up no hits in a complete game and thus threw a no-hitter. Congrats, Bum. -TOB
PAL: They should hand out a ticket for 2 free airheads from the concession stand, because this is some Little League crap! You're right, and—sheeeeeeeeeeeeeeit—I couldn't care less about a 7-inning game given up zero hits. I can't refer to it as a no-hitter. Did he give up any hits in the entire game? No. Was it a no-hitter? Nope.
TOB: I will fight to the death on this one. Blame MLB for the dumb 7-inning double header rule, but a full game is a full game and he gave up not hits in a full game and thus he threw a No-Hitter.
PAL: Well, then, stack up the the 5-inning no-hitters in the garage behind the Christmas lights. Per MLB.com:
A game is considered a regulation game — also known as an "official game" — once the visiting team has made 15 outs (five innings) and the home team is leading, or once the home team has made 15 outs regardless of score.
We know what a no-hitter means. Come on.
TOB: There's a difference here. This game was scheduled for 7 innings. It was not called early for rain.
PAL: Hey, just going by the rules here.
---
Quarterback Controversy Competition
Last night, 5 quarterbacks were selected in the first 15 picks round of the NFL draft. We all understand why: an NFL team cannot win without a very good quarterback, and very good quarterbacks near their prime aren't usually available in free agency (and they are very expensive if they are available, and why is the team they were on giving up on him if the most valuable asset a football team can have is a very good quarterback?)
What's more, a has to draft its QB AND have him play well on his rookie deal, so they can pay to build a roster around the most valuable player on the team before he's accounting for $30MM of the salary cap.
With that in mind, the I share this story from Rodger Sherman. In it, he talks of a growing trend amongst NFL teams to draft a QB in the first round, and then – even after as little as one or two seasons – draft a QB again. As recently as 10 years ago, a team would give a QB some seasons to grow. They would protect him. They would spend high round draft picks to build around the QB. The trend is getting away from that thinking. If you want to win the lottery, then best way to do it is to buy more tickets.
Within this broader argument, the part of the story I found most interesting comes when Sherman challenges the idea that teams can't have two quarterbacks competing for the job. We know it's the most important position to fill, but to have a real competition amongst is seen as a mess:
And using multiple first-round picks on quarterbacks within the span of a few years takes on outsized emotional significance. If a team holds an open competition for the starting right tackle spot, it's widely referred to as a training camp battle. If there's a similar competition for the QB spot, it's called a QUARTERBACK CONTROVERSY, and every comment the coach and players have ever made is meticulously dissected. We worry about the psyche of QBs in a way we don't with players at other positions. Will a team bringing in a competitor cause a young quarterback to lose confidence? Wouldn't a young quarterback benefit from having a journeyman 38-year-old with a bushy beard and a Harvard degree as his mentor?
And, before you go to the "job preservation" argument – that a GM and head coach will lose their jobs if they admit failure in their initial pick, consider this:
They may be worried about losing their jobs—but the thing that's really going to cost a GM a job is never finding the right quarterback. There aren't many people who seem critical of Cardinals GM Steve Keim's decision to pick Rosen now, even though it was a total failure. The screwup that cost his team a highly valuable draft pick was wiped out once Murray emerged as a success. Keim would likely be out of a job if he'd doubled down on Rosen.
I'm not a big NFL Draft follower, but I thought this was a damn good read. – PAL
Source: "The Case for the First-Round Quarterback Draft Mulligan", Rodger Sherman, The Ringer (04/27/21)
TOB: Tangentially related – I am developing a theory on this draft. As Phil notes, we saw five wide receivers drafted, including 4 in the top 10 and 5 in the top 15. That continued an upward trend – until 2018, there were usually two to three QBs taken in the first round. But starting that year, we've seen 5, 3, 4, and 5. But we also saw a lot of wide receivers taken this year – 5 in the first round and 3 in the top 10. Again, that continued an upward trend, this time starting just last year, where six wide receivers went in the first round – but none in the top 10. Prior to last year, usually 2-3 were taken in the first round, and usually late.
You might be thinking my theory is that teams are drafting more for the passing game as offenses continue to become pass heavy. And while that's true, that's not my theory. Because while teams have been trending that way in the draft, they've also been trending that way on the other side of the ball – defensive lineman and defensive backs, both in an effort to disrupt the passing game.
But this year? Just one defensive tackle (where we typically see three to six over the last decade) and four defensive ends with none in the top 15 (where we typically see as many as seven, with at least two in the top 10). Those are foundational positions on defense, and teams usually fall over themselves to get them. But this year there were few taken, and mostly late in the first round.
So my theory is that many of the QBs taken this year might have been second round picks in many years but it was a weak draft pool this year, for whatever reason – be it the shortened 2020 season, or just a natural down year, so we get bum prospects like Mac Jones taken 15th.
---
Did Tatis Sneak a Peak and is That Ok?
The Padres took 3 of 4 from the Dodgers last weekend, thanks in large part to Fernando Tatis, back from his shoulder injury, who hit two dongs off Kershaw on Friday, two more off Bauer on Saturday, and then a fifth off Dustin May on Sunday. That is quite the weekend. A little controversy arose during that double dong game against Bauer, though.
After the first one, Tatis turned toward his dugout and covered one eye, in response to Bauer pitching against the Padres during spring training with one eye closed.
That's an excellent trolling of a troll. For his part, Bauer said he thought it was great and in general stated he wants players to be allowed to be more animated in celebrations without fear of being tagged. But Bauer also complained that before he hit the second home run, Tatis peaked at the sign.
"There's no real remedy for the catcher and the pitcher to use to counteract someone looking back at the signs," Bauer said. "So the remedy is if you look back at the signs, that's fine, there's no rule that says I can't stick a fastball in your ribs. And that's kind of how it's been handled traditionally in baseball up until this point.
"Now, flip the bat and do all that stuff, fine. If you're going to look at the signs, not OK, and if you do it again, the team that you're playing probably ain't going to take too kindly to it and there might have to be some on-field stuff.
However, as Jomboy breaks down, the sign was already given before Tatis peaked.
At worst, Tatis was checking where the catcher set up. So, I dunno, is that bad? The Athletic talked to three former catchers about this and, to my surprise anyways, they said they have no issue with Tatis doing that:
In Kratz's view, Tatis might have determined that Bauer wanted the pitch to be outside from looking at Smith's positioning. Bauer, though, had worked Tatis away almost the entire at-bat, making it easier for Tatis to anticipate the location.
…
"He threw him like six pitches away the entire at-bat," said Kratz, who watched Bauer's video as well as video of the at-bat. "And Bauer is never going to run a ball in 3-2 unless you've got a base open or something. He's going to stay away. I think Bauer overreacted (with his comments)…
Kratz added that it's fairly easy to combat this:
"You see that (peeking). You're aware of that," Kratz said. "Peeking at signs… Eh, signs are tough to get. But there are guys who peek location, for sure. Location is the biggest thing, especially if a guy moves too much. That's totally on the catcher. I don't know who else would stop it.
"You're within their peripheral vision. If they're looking location, you move early to show it to them, and then you move back. If a guy is a really, really habitual peeker, then you tell your pitcher, 'I'm going to move early away. And we're going heater in. So just trust what the sign is.'"
What do you think, Phil? -TOB
Source: "Trevor Bauer Accused Fernando Tatis Jr. of Peeking at Signs. Did He? We Asked Three Ex-Catchers to Weigh In," Ken Rosenthal, The Athletic (04/26/2021)
PAL: I think Jomboy has a great idea in this video – I want pitch sequence somewhere on the TV during an at-bat. That's my biggest take-away from all of this.
He didn't see the pitch, but Tatis did check for location, and Kratz is 100% right that location is a huge piece of info for a hitter. It's on the catcher, in this case, Will Smith. They are saying he's shifting to the outside part of the plate, and giving location away too early. I disagree.
A catcher is a bit on his haunches, with the knees facing forward and up on the balls of his feet, when giving signs. That is done to shield the sign from base coaches and create a bit of a tunnel from where the signs are being given, directly out to the pitcher. Like this:
After the pitch and location are given, the catcher has to get down in his squat – the position he'll be in to receive the pitch: more on the insteps of his feet, and – with two strikes – ready to block a ball in the dirt. Like this:
In order to get from sign position to the receiving position, a catcher will have to rock/shift his weight, so there's movement before he gets set in the actual location. That's what I see Smith doing when Tatis sneaks a peak.
Smith even rocks back to his left (towards Tatis) before setting up outside.
That's a lot of info to say that I agree with the former players analysis—Tatis didn't see the pitch called, was looking for location, and that's on the catcher. But I just don't think Smith gave away the location when Tatis was looking. I think Tatis saw Smith shifting, and then guessed the right location. Bauer was pounding him away the entire at-bat, especially when Tatis already pulled a middle-in slider for a home run earlier in the game.
Most importantly, give us that pitch sequence on the telecast.
---
Now That's A Cool Draft Party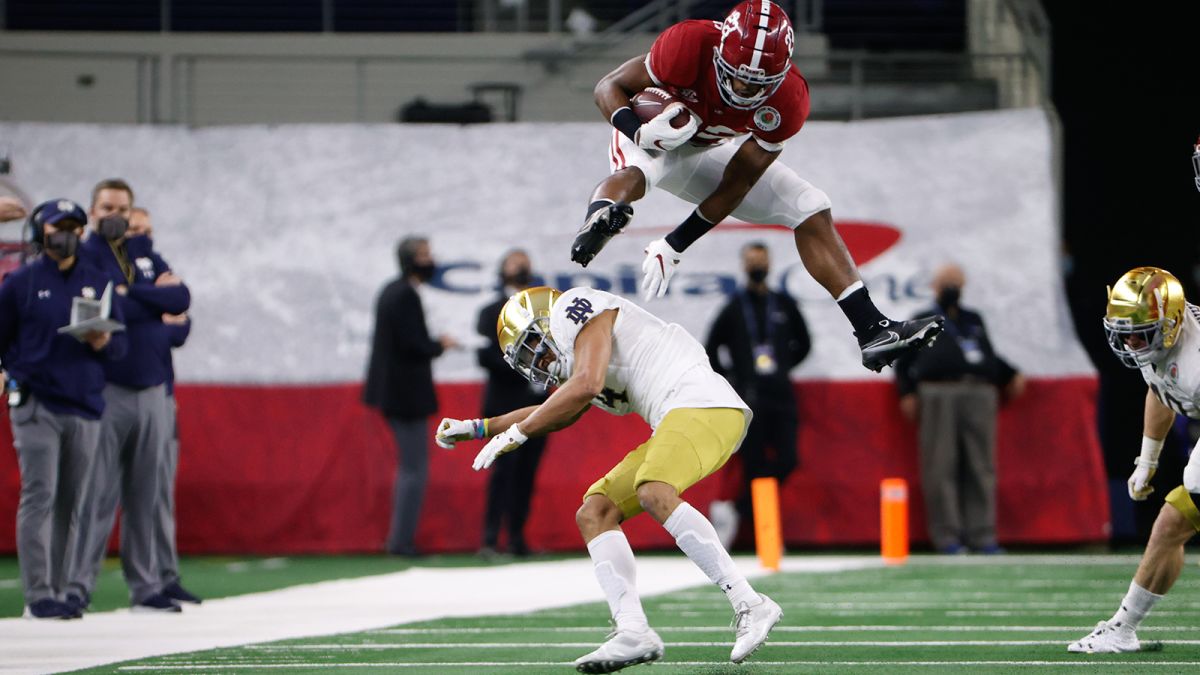 Najee Harris, the Alabama RB from the Bay Area, was the first running back selected in the 2021 draft. He was a complete stud playing for the Crimson Tide. Like many first-rounders, Harris had a draft party, but Harris' was a little different. His party was at the Greater Richmond Interfaith Program. That's the homeless shelter where he and his family stayed during his middle school years.
That's incredibly heartwarming. I hope Harris balls out for the Steelers. – PAL
Source: "Steelers Draft Pick Najee Harris Hosts Draft Party at Homeless Shelter Where He Used to Live", Madeline Coleman, SI.com (04/30/21)
---
Video of the Week
---
Tweet of the Week
---
Song of the Week
Kamasi Washington – "Southside V.1", "Southside V.2."
---
Like what you've seen here? Spread the word!
Email: 123sportslist@gmail.com
Twitter: @123sportsdigest
---
And Three Times A Week, I Shall Require A Cannoli.

Newman