---
On May 4, 2014 TOB and I started 1-2-3 Sports! for a few simple reasons:
We found ourselves sending a bunch of emails, texts, and chats with links to stories we'd read throughout the week. Many of you were probably on those chains, too.
There's a surplus of outlets for sports news, highlights, and stories, all of which are one tweet away. We didn't need more sports stories; rather, we thought a bit of curation would be helpful.
Perspective oftentimes helps. By posting once a week rather than multiple times a day, we could sift through a bunch of stories throughout the week, find some gems that are worth your time, and provide you with some explanation and banter.
We love doing this, and we hope you enjoy it. Quite frankly, the vast majority of our readers are close friends and family, and it's really cool to hear you enjoy the blog. If you do love it, please add one small New Years resolution to your list: Share 1-2-3 Sports! with your friends and family! We'd really appreciate it.
Email: 123sportslist@gmail.com
Twitter: @123sportsdigest
Thank you for reading, and now please enjoy our favorite post of the year! And be on the lookout for the funniest stories, videos, and media from 2016 tomorrow.
Cheers,
Phil and Tommy
---
The Tragedy of Jennifer Frey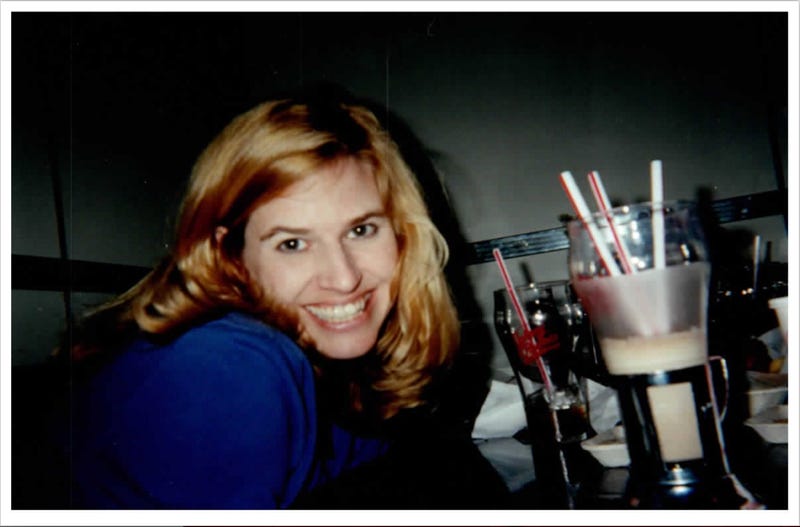 Jennifer Frey was, by all accounts, a prodigious sportswriter. Multiple people in the newspaper industry went as far as to characterize her as a genius.
Jennifer Frey was also an addict. On March 26, 2016 Frey died of multiple organ failure. She was 47. 
You likely haven't heard of her. I hadn't until Thursday. But to many involved in college and professional sports in the 90s, Frey was known as the most talented of writers and a joyful force of nature. She was the rising star. 
You might be asking yourself why Dave McKenna's exceptionally written profile/remembrance was posted on October 27 when she died back in March. I think you'll find your answer if you read this story (I urge you to do so). McKenna retracks Frey's career – from her first high school internship at the Olean Times, to the New York Times (at age 24), to the Washington Post in its heyday of sportswriting (Kornheiser, Wilbon, John Feinstein), and ultimately to her unremarkable last byline. He speaks with several writers, editors, and friends from every chapter of her life.
The story is heartbreaking because McKenna takes his time capturing just how incandescent Frey was before alcoholism pinned her down. And while she was the 'life of the party', she was also revered as a gracious friend and co-worker, as someone crisscrossing the globe not only for the next great story but also for a spontaneous trip when she learned her friend had been to every state but Alaska. Yes, she was passionate about her job, but McKenna finds the real point that matters: Frey was passionate about life!
This snapshot, which serves as a sort of bookend to the story, captured her success, ambition, and appreciation (remember, Frey's 24 at the time, working for The New York Times): 
Mike Wise says Frey, new as she was to New York, acted like she owned the city. He recalls sitting with Frey in her apartment in Brooklyn Heights after she'd thrown a party, and just being really happy. "We're looking out the window at the Statue of Liberty, just this amazing view," says Wise. "And Jennifer said, 'It's a pretty good life isn't it?' It was."
Frey's downfall is terrible – in all the ways you would expect, and in some ways that you might not. The star fades. She mistreats people she loved. The people who loved her run out of stamina. They reconnect when hope is gone but she's still there. The blame and anger so insignificant in the wake of a sorrow that trails the rarest of people whose greatness was enthusiastic. 
You gotta read this story. -PAL
Source: "The Writer Who Was Too Strong To Live", Dave McKenna, Deadspin (10/27/16)
TOB: Phil did a really nice job capturing what made this story so great. As with Phil, I had never heard of Jennifer Frey, but damn if it doesn't now feel like I did. Great writing by McKenna. And if you think you might need help, ask, before it's too late.
---
The House That Thacker Built 
This story is one of those that I read and think, "This is why we carve hours out of every week to put this blog together for a relatively small amount of readers." It has it all. Augusta National Golf Course, which hosts the Masters, is rich as hell. There used to be a neighborhood across the street. But Augusta National bought the entire neighborhood, for over $40 million, all told. And bulldozed them all for a god damn parking lot. Every single house! Except for one – the house owned by Herman and Elizabeth Thacker.
The Thackers built the house nearly 60 years ago. They raised their kids there. Their children, and their grandchildren, and now their great-grandchildren come back for the holidays. They recently celebrated their 60th anniversary there. And ya know what? They like the house, seven-figure payout by the rich pricks at August, be damned. "We really don't want to go," Elizabeth Thacker said. And so they haven't. "Money ain't everything," Herman Thacker said, sitting on his deck, surrounded by people returning to their parked cars after a Masters practice round, sipping on some bourbon (ok, I imagined the bourbon). And in the middle of this stupid parking lot, the Thackers remain. Bless you, Herman and Elizabeth Thacker. -TOB
Source: "The House That Augusta National's Millions Can't Buy" Steve Politi, NJ.com (04/06/2016)
PAL (1/6/17): I love this story for the obvious reason – money will get rich people most everything, but not everything – but it's more nuanced than that, too. For instance, the family is well aware that Augusta will wait them out and eventually own the house, because "the men in green jackets will always be here, and they will always have the money." Truth.
This couple of 60 years who, as TOB mentions, have been surrounded by people returning to their parking lot during the tournament likely sat on their porch and watched the lyrics to a Joni Mitchell's 'Big Yellow Taxi' play out before them. They paved paradise and put up a parking lot.
It is worth noting the Thackers did sell another lot they owned in the neighborhood.
One last fun tidbit: The Thackers' grandson is on the PGA Tour trying to qualify for the Masters one day. I hope it happens, so we can post the follow-up to this story.
---
The Best There Ever Was?
I like this story because it reminds me of the story Phil shared here a while back about the only kid to ever strike Joe Mauer out during high school. Ayrton Senna is known as one of the greatest F-1 drivers of all-time. A well-regarded documentary about his life was made, Senna, which you can watch on Netflix. Senna died on the track in 1994. Before he was winning F-1 championships, though, he was a teenage go-kart racer. He was very good – but he was not the best. The best was a British guy named Terry Fullerton. A few years older than Senna, Fullerton beat everybody. He never lost to Senna. This fact drove young Senna so mad that he once walked by Fullerton and shoved him into a pool. Senna would move on to bigger and better things. But he never forgot Terry Fullerton. Just before Senna died, he said that Fullerton was the best driver Senna ever raced against:
So why have most race fans never heard of Terry Fullerton? Because Fullerton, now 63, never advanced beyond go-karts. He chose this path because when Terry was 11-years old, his older brother died in a motorbike race. Fullerton did not want to put his parents through that again, having to bury their remaining child. So he continued to race go-karts. He even now coaches go-karts, and barely scratches out a living. When asked if he regrets it, he says he sometimes does – but when Fullerton saw the Senna documentary, and heard Senna say that Fullerton was the best driver Senna ever faced, Fullerton realized he made the right decision. After all, Senna is dead, and Fullerton is enjoying his life. -TOB
Source: "Meet the Man Ayrton Senna Could Never Beat", Alex Lloyd, Jalopnik (09/19/2016)
PAL (1/6/17): Fullerton is simultaneously relatable and extraordinary. You've never heard of him, and yet he dominated racing legends. A lot of times trying to measure the gap between "athletic" greatness (sorry, I have to use the quotes for racing) and ourselves is like trying to gauge walking distance in Vegas. You know the difference is very great, and yet I bet we still underestimate it. Stories like this make it even harder to gauge, and that's fun.
To be the best in the world – at anything, really – is so fascinating, and this story about Terry Fullerton nails that sentiment.
---
The Man Who Shook Up The World
As we all know, Muhammad Ali passed away last Friday, at age 74. Phil and I happened to be hanging out, watching Eddie Murphy's "Raw" on Netflix, when I glanced at my phone and read the sad news. We immediately turned on ESPN and watched the retrospectives pour in. ESPN continued the coverage late into the night. Jeremy Schaap, who knew Muhammad Ali better than most because of Ali's relationship with Jeremy's dad, the great Dick Schaap, lead the way with some great anecdotes. We laughed at the clips of Ali's best trash talk:
We also shook our heads at how early he was obviously showing signs of Parkinson's, and wondered aloud why he was permitted to fight as long as he did. I considered suggesting a special edition 1-2-3 Sports edition on Saturday morning, but we decided against it: one of our guiding philosophies for this blog is not to bring sports news, but to bring you the best sportswriting we find, and to throw our own take in for good measure. This approach also allows some perspective. Over the last week, I read a lot of words written about Muhammad Ali – almost all of them interesting. Like this old article by Roger Ebert, about watching Rocky II with Ali back in 1979, with some very funny anecdotes, observations, and insights from the Greatest. I also really enjoyed this retrospective. It touches on what made Ali great in the ring, and so beloved out of it; but it addresses his shortcomings, both in the ring and out, as well.
And that's an important part of the Muhammad Ali story. The man was not a saint, and that's ok. He can still be loved, even if he wasn't perfect, and even if he was not really the greatest heavyweight boxer, let alone in any weight class, of all-time. Ali was so beloved because of who he was and what he did: he was generous and kind and made our world a much better place. Ali was funny. He was a great fighter. He was a man of principle. But he could be kind of a jerk, too. Truth be told, I've always been a Joe Frazier guy. Joe was tough and he was great, and he was the underdog. I was born 7 years after their last fight, but I watched plenty about it as a kid, and I could not escape the thought that Muhammad Ali was a jerk to his former friend Joe. But the world is not that black and white, either. And so I thoroughly enjoyed this old Sports Illustrated article, written about Ali and Frazier and their final fight – The Thrilla in Manila, their respective mornings after that fight, and the respect that two vicious enemies earned from each other.
"In his suite the next morning he talked quietly. "I heard somethin' once," (Ali) said. "When somebody asked a marathon runner what goes through his mind in the last mile or two, he said that you ask yourself why am I doin' this. You get so tired. It takes so much out of you mentally. It changes you. It makes you go a little insane. I was thinkin' that at the end. Why am I doin' this? What am I doin' here in against this beast of a man? It's so painful. I must be crazy. I always bring out the best in the men I fight, but Joe Frazier, I'll tell the world right now, brings out the best in me. I'm gonna tell ya, that's one helluva man, and God bless him."
I hope you read the whole thing. It is poetic and enlightening, and artfully demonstrates the reason I do enjoy boxing, as brutal and corrupt as it may be.
Source: "Lawdy, Lawdy, He's Great", Mark Kram, Sports Illustrated (10/13/1975)
PAL: Like TOB said, you just gotta read this story. My favorite bit of writing:
"Once, so long ago, he (Ali) had been a splendidly plumed bird who wrote on the wind a singular kind of poetry of the body, but now he was down to earth, brought down by the changing shape of his body, by a sense of his own vulnerability, and by the years of excess. Dancing was for a ballroom; the ugly hunt was on. Head up and unprotected, Frazier stayed in the mouth of the cannon, and the big gun roared again and again."
---
A Story That Actually Made Me Feel Bad For Tiger Woods
Long ago, on this very blog, I declared that Tiger Woods no longer deserved the nickname Tiger, and I encouraged our many readers to begin referring to him by his given name: Eldrick. But I'm using Tiger here because Wright Thompson wrote such a great piece on Tiger that I actually feel bad for him.
The nuts and bolts are simple: Tiger Woods was very close to his dad, Earl. Earl was Tiger's only real friend – both as a kid and as an adult. He was the only person Tiger could really open up to. And then, in 2006, Earl died. To fill the void, Tiger sought comfort by emulating his father, a former Navy SEAL. Tiger began diving deep into advanced military training. It began to consume him. It destroyed his body. And now Tiger, at 40 years old, can barely walk. His golf career is essentially over, and has been for years.
But…this article is somehow so much more than that. It's incredibly well researched. It is insightful, at times poetic. It's not perfect – more than a couple times I rolled my eyes when it was a little too poetic. But it strikes deep at the universal relationship between a father and a son. And it paints the picture of Tiger Woods, deeply introverted and wildly awkward, as an incredibly talented golfer who never wanted the immense fame he achieved. Or, at least, had severe buyer's remorse when he got it. Some of the best passages, shockingly, are direct quotes from Tiger's friend Michael Jordan, who seems to be reaching out to his troubled friend through this story. MJ sees himself in Tiger, making the connection between Jordan's retirement to play baseball following his father's death, and Tiger's military fascination following his. "It could be his way of playing baseball. Soothing his father's interest."
Michael sees the end for Tiger, even if Tiger doesn't quite see it himself. "I don't know if he's happy about that or sad about that. I think he's tired. I think he really wishes he could retire, but he doesn't know how to do it yet, and I don't think he wants to leave it where it is right now. If he could win a major and walk away, he would, I think." Jordan goes on to say that, like many of us, Tiger looks back at the events of his life since a major turning point and wishes he could go back in time and do it over again. Do it differently. For Tiger, that turning point was his father's death. He'd be a better husband, for one. But, of course, he cannot. And so MJ hopes his friend, who has named his boats Privacy and Solitude, finds true companionship. Happiness. Tiger continues to be, by all accounts, a loving and caring father to his two children. And that is why I feel bad for Tiger Woods. He has made mistakes, but he is human. He's a son who misses his father. He's a father who loves his children. And he's a man who wants to be happy. -TOB
Source: "The Secret History of Tiger Woods", Wright Thompson, ESPN.com (04/21/2016)
PAL: We have two depressing stories about sports legends this week: Woods' focuses on his search for something real in the wake of his father's death, and Kobe Bryant's story outlines his decades-long deconstruction of reality in his pursuit of greatness. Both of these dudes are beginning a part of their lives for which they are woefully unprepared. Tiger seems at least to want to find out how to exist in the now; whereas Kobe seems like he just wants to apply his single-minded approach to building a new fantasy world for himself and only himself.
---
Life Goals.
Shortly after starting this blog, Phil and I decided one of our goals would be to get a press pass to a Giants game. So far, it has not happened – in small part because we have not tried. It was, then, with much self-interest that I read this story of a guy, back in the early-aughts, who fabricated an entire newspaper for the purpose of getting press passes to Atlanta Braves games. This story is the first time Phil Braun told his story, and it's pretty great. After his photographer buddy sneaks him into a game with an old press pass, Phil decides he really enjoyed himself and wonders how he can get a press pass. He makes up a fake newspaper ("The Duluth Neighbor") and inquires with the Braves. As it turned out, all he had to do was fax in a request, on the "paper's" letterhead, signed by his "editor". It was so easy it's almost stupid, and Phil got his press pass.
Phil spent many games that season watching from the dugout, or the photographer's well, snacking on free food in the press box, etc. Taking photos like this, of Chipper Jones going yard.
What a goddamn dream. Then, 9/11 happened and Phil assumed security would be tightened and he'd no longer be allowed to get a press pass so easily. Technically it wasn't so easy – Phil had to e-mail a headshot. Come on! What the hell. Phil, let's get some press passes! We'll start small – San Jose Sabercats or something. By 2018, we'll be in the clubhouse as the champagne starts flowing another Giants' even-year World Series title. Amen. -TOB
Source: "I Covered the Braves for a Newspaper That Didn't Exist", Phil Braun, Deadspin (10/05/2016)
PAL (1/6/17): So…you're telling me another Phil used essentially the same technique that I used to fudge a bad report card in high school, only he used it to watch MLB baseball games from the dugout? Man, was I thinking too small or what? Forget the Sabercats, TOB; let's shoot for the moon and see if we can nab a press pass to a Giants game.
---
Video of the Year:
---
Songs of the Year: For the hardcore loyalists who scroll towards the bottom of our weekly posts. You'll see we post a "Song of the Week". These are not necessarily new songs (rarely are they, in fact), but just what hit me in the right way that particular day. TOB's jumping on the tune train today. First, let's turn to JOB to set the mood:
Here are our favorite Songs of the Week from 2016:
TOB: Every Friday I am excited to hear Phil's new song of the week pick. There are some classics on there that I have loved for years, but the following are songs (or versions, in the case of "Galway Girl") that I had not heard before Phil introduced them to me here. As you can see above, the whole family enjoys Phil's playlist regularly. My top five:
Crooked Fingers – "Went To The City"
Mason Jennings – "The Field"
Steve Earle – "Galway Girl"
Oh Pep! – "Doctor Doctor"
Billy Bragg & Wilco – "California Stars" (lyrics by Woody Guthrie)
PAL:
Alabama Shakes – "Over My Head"
Smokey Robinson & The Miracles – "The Tracks of My Tears"
The O'Jays – "Emotionally Yours" (Bob Dylan)
Willie Nelson – "Buddy"
Girls – "Vomit"
Complete 1-2-3 Sports! Playlist:
---
Like what you've read? Let us know by following this blog (on the right side, up near the top), or:
Email: 123sportslist@gmail.com